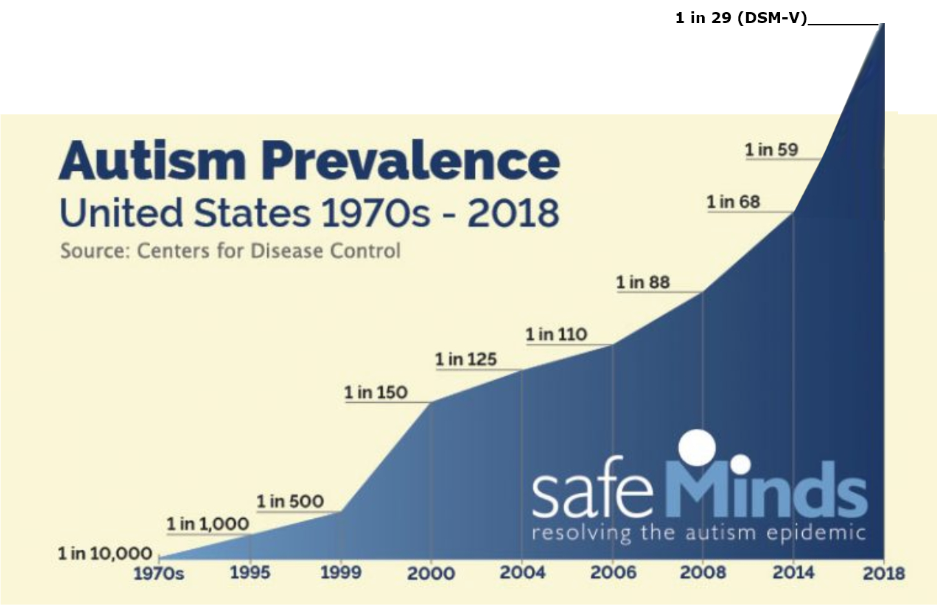 THE HIDDEN CAUSES OF AUTISM
What the Medical Establishment Will Never Tell You and What We Can Do to Help Autistic Children and Avoid Autism in the Future

Upcoming Event – June 20, 2023
The latest statistics from the CDC show that autism is currently affecting at least 1 out of 44 children in the United States, with 1 in 27 boys currently diagnosed with autism spectrum disorder.
1 in 6 children in the U.S. has been diagnosed with a "developmental disability" and more than 50% are experiencing at least one chronic health issue, if not more.
As the above graph shows, the situation is growing worse with each passing year and the trouble began in the early 1970s.
What happened between 1970 and 1995 that caused autism rates to exponentially jump from 1 in 10,000 children to 1 in 1,000?
What happened between 1995 and 2000 that caused autism rates to exponentially jump again from 1 in 1,000 children to 1 in 150?
The answers will be made known during this webinar.
Although thousands of parents will attest to the fact that vaccination contributed to their children becoming seriously ill and/or slipping over the edge into autism, what most people do not yet realize is that the groundwork for autism is being laid in the womb.
Now is the time for people to come together and collectively address what is causing this extreme harm to our children and contributing to a lifetime of debilitating health issues, learning disabilities, behavioral disorders, neurological dysfunction, brain damage, and more.
If you are the parent of an autistic child, or someone who is considering becoming a parent, you will not want to miss this webinar.
This webinar is also highly recommended for those who are concerned with the welfare of children and families and those who care about the future of our civilization.
Cost for this program is $79.  To register, please click here